After a nail biting few weeks, we had hoped to write to everyone today to announce whether or not Sunderland had made it onto the shortlist to be named UK City of Culture 2021. But when the long awaited email from the Department of Culture, Media and Sport finally arrived yesterday lunchtime, it was just to let us know that the announcement will not now be made until the middle of July. Everyone sighed. We must wait a little longer!
As if the wait wasn't nerve-wracking enough, the news from Hull today has certainly upped the ante on the competition. The University of Hull published their report into the impact of the first 3 months, demonstrating the staggering effect that being UK City of Culture 2017 has had on the city-
Ninety percent of Hull's residents have already attended an event or activity as part of their UK City of Culture programme, whilst regional, national and international visitors have flocked to the city. More than 1.4m people attended events and exhibitions during the first season, on top of the half a million who have visited Hull's museums and galleries over the same period. Two of the city's key cultural assets, the recently redeveloped Ferens Art gallery and Hull Maritime Museum, have seen year on year attendances increased by over 500 per cent.
The benefits of UK City of Culture for Hull have extended beyond just a growth in visitor numbers. Holding the title is helping to transform the city's economy. Since 2013, Hull City Council report the creation of approximately 89 new businesses (or businesses that have changed use) within the city centre, along with 550 new jobs. Hotel occupancy was up almost 14 per cent in the first season compared to the same period in 2016.
It has also changed the way that the city is perceived, nationally and internationally. Media coverage has generated 4,221 pieces of coverage about Hull's UK City of Culture. The value of media coverage of Hull as a direct result of UK City of Culture 2017 is now estimated to exceed £10.1m. Within the city, 70 per cent of Hull's residents believe that being UK City of Culture is having a positive impact on their lives and their communities.
Building upon these successes, yesterday Arts Council England announced a further £4million investment into Hull Museums. This, along with all the other great results from the city, demonstrates the kind of catalyst that winning UK City of Culture can be. More than that, it offers a glimpse of the changes that Sunderland's people can expect if our bid is successful.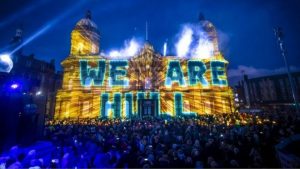 So, enough with the nail-biting. We've got 2 more weeks to tell the world why Sunderland would be a fantastic UK City of Culture in 2021. Let's make them count.  Post your reasons why Sunderland should be UK City of Culture 2021 on social media using #Sunderland2021, and let's share everything that's great about our city. 
---
Rebecca Ball, Director of Sunderland 2021