Sunderland has enjoyed a thriving music education and music industry scene for centuries. From Benedict Biscop introducing the Roman mode of chanting and singing in England through Monkwearmouth Abbey, to Saint Bede the Venerable, who enjoyed music and was known as an accomplished singer. Gregorian chant was the first form of musical technology, as written notation, and the Industrial Revolution enabled technology to reach new heights, with large orchestras able to read and play composer's creations through the language of instrumental arrangements.  The invention of the radio and records led to audiences in Sunderland being able to listen to music for the first time in their own homes, and we all know too well the vast range of ways to access music straight into our ear drums today.
The musical legacy Benedict Biscop and St Bede contributed to, and the previous strong folk musicians who, often unrecognised, informed local participation in music, continued through the centuries in Sunderland. Crowds gathered to view the celebrity of Elgar when he came to conduct in Sunderland in 1910, the 50th anniversary of the Sunderland Philharmonic Society at the time.
More recent and familiar famous musicians to hail from Sunderland include Bryan Ferry, Dave Stewart, Emily Sandee and a regular returner to her home town, Lauren Lavern. This rich musical heritage thrives today, with a diverse and vast range of musicians who are proud to live and support their city and actively promote the area nationally through their musical achievements and advocacy. This impressive list includes Frankie and the Heartstrings and their brilliant cafe/record shop Pop Recs, providing an important musical refuge for local young people interested in developing their own musical styles (the Cuckoo Songwriters workshop has about 20 young people who have taken ownership of their weekly sessions there). Ross Millard curates and delivers a vast range of musical activities in partnership with local organisations, from Summer Streets, to Putting the Band Back Together, as well as continuing to develop his own musical creations. Marty Longstaff and The Lake Poets are strong supporters of the work Sunderland Music Hub does developing musical skills in young people across the city. The songwriting workshops Marty delivered in 3 primary schools led to pupils from St Paul's school singing their own creation at the City Sings choir competition at Sunderland Empire, and then at the 160th anniversary of Mowbray Park in May.
They valiantly kept 'singing in the drizzle' to ensure audiences were entertained on a rather stormy English summer day. There are so many other musicians actively inputting into a strong musical scene in Sunderland, Leaders of Sunderland Youth Orchestra working with Sunderland Symphony Orchestra to ensure young people who play orchestral instruments can progress into these ensembles. Sunderland Music Workshops supports young rock and pop musicians with workshops every Saturday and have directly supported the growth of local artists such as The Lake Poets. Field Music and Warm Digits continue to produce innovative contemporary and pop music with national organisations such as Royal Northern Sinfonia, helping to raise the profile of talent in Sunderland nationally.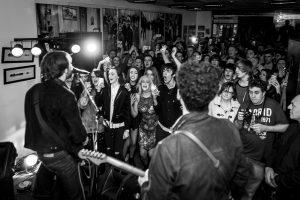 A North East working culture means we are not always keen to show off our successes and talents. But the UK City of Culture 2021 bid is supporting raising the profile of all the great musical (and other art) activities that have happened and will happen in Sunderland.
This is why Sunderland Music Hub backs the bid. We don't have to do that much to support the music scene because it is already strong. But it could be stronger, with even more opportunities for young people to work with local musicians to develop their skills. Last year, we recorded at least 42 rock and pop bands, over 90 school choirs, and 3 regional youth ensembles, with over 20,000 children taking part in a variety of instrumental tuition  in schools across the city. At a time when music is increasingly being challenged in the curriculum, at Primary and Secondary level, we give our full backing to supporting the City of Culture bid and all it could do to inspire, motivate and upskill the next generation of great Sunderland musicians.
Sunderland Music Hub delivers the national Arts Council/DfE Music Education Hub fund in Sunderland, managed through Together for Children. They work with schools and partners to ensure every child has the opportunity to learn a musical instrument, and progress through opportunities across the City. Information can be found at www.sunderlandmusichub.org.uk
————————————————
Rebecca Pedlow, Music Education Hub Lead Manager at Sunderland Music Hub