Alan Parkinson is the Sunderland based author of Leg It and Idle Threats.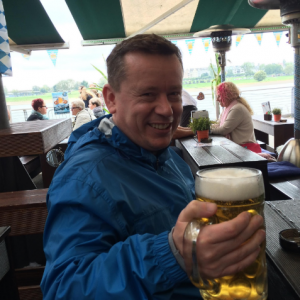 A few people questioned the wisdom of setting my first two novels in Sunderland. My sanity was brought into question yet again when I decided to give up a well-paid job in the software industry to become a full-time writer in December 2015. Yet here I am, over a year later, still writing and onto my fourth Wearside based novel.

Why did I decide to risk everything to enter a notoriously difficult industry in a city that wouldn't be first on most people's list for culture?
Quite simply, the time was right.
In what seemed like an insignificant event at the time, in November 2014 I stuck my head around the door of Holmeside Coffee and asked "Is this the writing group?"
Holmeside Writers is run by Iain Rowan, not a native of Sunderland but as passionate about his adopted city as anyone. The fantastic little coffee shop is run by Joe Collins, lead singer of Lilliput and keen advocate of anything cultural in Sunderland.
The group of writers were from diverse backgrounds. Builders to teachers, artists to groundsmen but all shared my passion for writing.
They were successful as well.  Not just award winning writers but award winning filmmakers and winners of New York Radio Awards.
If there was so much talent in one small room, what else was there in Sunderland?
I was already aware of the music scene, having been a big fan of the Split Festival and a musical history going through Field Music, The Futureheads, Leatherface and all the way back to the Toy Dolls.
We have a fantastic industrial heritage from the shipyards to mining and to Nissan today. We have a stunning coastline, the largest free airshow in Europe and we will be hosting the Tall Ships Race in 2018.
Then there's the football. We may flatter to deceive as a club but the fans' passion can never be called into question.
But this is stuff I already knew about, I needed to dig a little deeper.
Through Holmeside Writers I got to hear of other groups of creative types and was amazed at the talent that is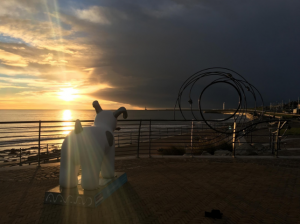 bubbling under in Sunderland.
I got to work with International artist Beatriz Olabarrieta at the Northern Gallery for Contemporary Art. I appeared in, and thoroughly enjoyed attending, the near sell-out Sunderland Literature and Creative Writing Festival.
There's been art, theatre, exhibitions at the Museum and Winter Gardens, music, films, photography and so much more.
I went back to Southwick where I grew up to question what the residents considered culture to be. This was as big an eye opener as any because I realised that culture isn't just theatre and art and music but it's football, it's bingo, it's building model boats in your shed and telling stories to your grandkids.
When you initially ask people if they are interested in culture they may back off a little, but get them talking and the passion is there.
We're not a shouty city, we don't bang the drum enough about what we are good at. We can be self-deprecating, always feeling the need to balance out anything positive with a bit of pessimism, just in case.
That doesn't mean we aren't confident in our ability, far from it, there just hasn't been a collective voice before. We needed a mast to pin our colours to and that opportunity has come along with the city's bid for UK City of Culture 2021.
With this bid we've learned that it's ok to shout about our skills and achievements.  
It's ok to be passionate about culture in our city. Culture that is for everyone, not just those that consider themselves artists and writers.
It's ok for me to sit on the beach with my laptop, looking out to the sea and think that my office isn't too bad and being a writer in Sunderland is a great career choice.
I've always been proud of Sunderland and wherever I am in the world, be it Argentina or Australia, I've let people know where I am from but am always pleasantly surprised when people have heard of it. I want that to change.
This is an exciting time for Sunderland and I've never been prouder of what we have to offer.
I want to be part of Sunderland, City of Culture 2021.
The time is right.
–Alan Parkinson