After two years of consultation, planning and campaigning, the second-stage bid to win the prestigious UK City of Culture title in 2021 will be sent to the Government tomorrow (Friday September 29).
As a celebration, we are asking all of our friends and supporters to join us in wishing Sunderland's bid the very best of luck and simultaneously post on Twitter, Instagram and Facebook at 12noon on Friday 29th September. Please use the following message/hashtags:
Ha'way #Sunderland2021 #UKCityofCulture2021 @DCMS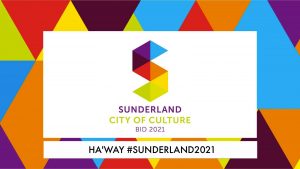 Please feel free to add your own messages of support and photos or videos. The more the merrier! The main thing is using #Sunderland2021. When we submitted our first bid in April, our Twitter thunderclap trended 4th in the UK and had over 2.5 million impressions. Let's see if we can beat that this time
We have to convince the judges of the passionate belief here that Sunderland should win this – and one clear way of showing them the scale of support is through social media. Please continue to engage on our social media accounts and encourage all of your personal and professional networks to like our Facebook, Twitter and Instagram pages. Those numbers and positive messages really do make a huge difference.
Finally, we wanted to send you all a message of thanks for your support and generosity. This really has been a bid formed through genuine collaboration and we feel confident that we're submitting a strong proposal reflecting the needs, hopes and aspirations for people in Sunderland.
See you on social media at 12noon tomorrow!
#Sunderland2021